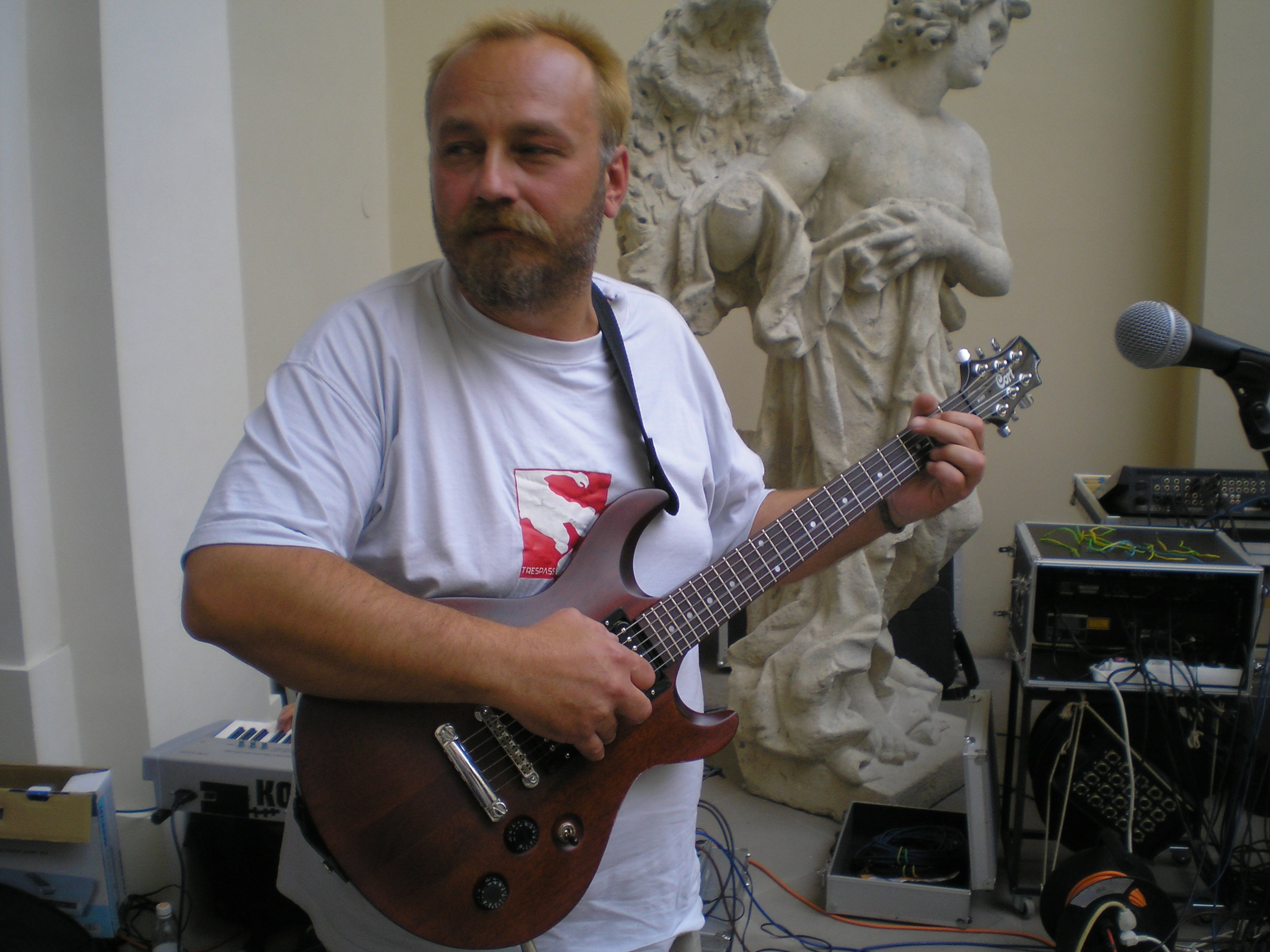 Pavel Doležal (born August 23, 1961) is a Czech painter, graphic designer, restorer and creator of sculptural objects, whose work is a continuation of a high-quality family heritage in space and time. He grew up in Mikulov in Moravia as the grandson of a rare regional personality, painter Rudolf Gajdoš. The picturesque nature of the old Moravian town on the slopes of Palava Hills, coupled with the creative warm atmosphere of his grandfather´s studio under the Holy Hill stirred the painter's increased sensitivity and desire to discover what is hidden and invisible to human eyes at a very young age. From childhood, Doležal has been significantly shaped by his uncle, the academic painter Jan Gajdoš, namely by his masterful, strong disturbing graphics and tireless work on large objects of etched glass.
Pavel Doležal studied at the Art College in Uherské Hradiště, later in Brno and soon enough started to work as an advertising graphic artist. He became a founding member of the art group A6 and of the band Jenprotendnešníden, which was an integral part of the South Moravian music scene. As such, music has always been a major influence on his art. About 40 successful solo and collective exhibitions at home and abroad have been carried out and received acclaimed attention (Slovakia, Austria, Sweden and Iran). Nowadays he is a member of the Association of Břeclav Artists, a member of SVUM (Association of Moravian Fine Artists) and a chairman of the Beautification Association Krasula. His distinctly and formally rich artistic expression is used in many implementations - interior stained glass and etched glass for Cafe Bulldog / Břeclav, etched wall glass in Winery Beneš / Hrušky, graphic design of the calendar Břeclav 2013, curatorship of a comprehensive exhibition of Gajdoš's lifework Continuity / Chateau Mikulov, reconstruction of the spacious sgraffito Wedding Feast / Vracov, glass sculptures for the Hall of Fame / Echoes of Břeclav rock 2012-2014. Additionally, his glass sculptures have been thus enhanced to become artistic lightings as parts of various interiors.
Doležal´s artistic style is slowly evolving. In a thoughtful process he builds up colored surfaces on his paintings. Relief-like structured canvasses or fiberboard panels which are skillfully covered by layers of fine oil paints. The current work process features paint layers punctuated with sharp knives, sometimes reaching the under-layered paint. Therefore, there is a harmonious combination of painting and graphic techniques. Such compositions are here and there stressed with colorful accents and gleaming gold leaf surfaces (Golden Age I-III). At times nearly abstract color paper planes create space for his painterly stories. Biblical themes, historical and fabulous spectacles (Masada, On the Road, Twilight Ghosts) are the prominent echoes running through the majority of his work. A representative work of such orientation is the latest free diptych Fallen Angel I-II. The Angel's headless body is in an indefinite space beneath the heavens. The head is hanging down into the upper body, illuminating the heart and organs. Its wings are on fire and gleam with beauty of the sacraments, but the body is subtle and emptied, the head laden with greed which falls into the depths of physicality. The extensive gold wing area draws us into physical pleasures and greed, where angelic nature is transformed into lust and desire for fame. The dipped coloration of the painting is in strong contrast to the massive gilded angel's wings and underlines the unfortunate transformation. There is no doubt that this work refers both to fallen angels from the Holy Script and earthly man with all his evil and rupture.
The painter's work is often based on reality and experience (Catfish, Gothics, Blue Forest, Music) which likewise shows internal perception or momentary sensation in lyrical form, which gradually transforms into a mysterious landscape (Vanishing Landscape I-II, Twilighters, Dreaming). Sometimes the painter himself becomes a major part of the figural compositions, at other times his closest relatives (Matka and Demons, Best Garden, Grand-uncle Rudolf, Adam's Road) are used as the central personas. He doesn't deny enchantment by architecture or landscape (Münster Freiburg, Tower of Babel, To Belgrade!, Stratoni). On the other hand, it is obvious that Doležal's fruitful creativeness is determined by painting and an enduring fascination with the color composition of an image area. While using the whole specter of colors, the dominate combinations are red madder, Prussian blue and emerald green. This is particularly evident in his expressively approached works, inhabited by his inner world creatures arising from the artist's imagination, which have been felt by the painter since his childhood (The Great Teacher, Small Farmer, Blue Tomcat, Newcomers II). Doležal's permanent and playful creativity is imprinted in his objects of wood and stone as well (Souvlaki, Elements, Pyramid). By means of the third dimension, a dialogue is established between different fuels and materials.
Imagination is now as before Doležal's essential source of creation, which currently takes place in experimentation in 3D planes, The previously achieved - certainly high - "technical" dimension of his art, however, recedes into the background, while the artist turns to deeper, more serious formal and content planes. Since 2011, he has expanded his interest in computer-modified images (Waiting for the Mass, Touches, The Road, Drawing) and has participated in photographic exhibitions. Recently the artist´s focus has been revolving around glass and sculptures from hand-made deep-etched glass - both materially and technically embracing and a time-consuming technique that is unique on a European scale as well. He learned it from his uncle, Jan Gajdoš, who devoted it over 30 years of his professional career. He completed over 70 pieces of work, which is more than 725 square meters of etched glass.
By Doležal, a combination of apparent opposites is used - a solid and impenetrable stone, wood, metal versus transparent and fragile glass. His glass sculptures interact with light, create tension and deliver movement. These multilayered objects represent landscapes and scenes that leave the traditional three-dimensionality and pass through light scattering to the fourth dimension - time. Individually, differently structured and conditioned layers are combined in a unique illustration that can be fully understood as an analogy and metaphor of the human heart (Landscape of Mind, The Heart of the Matter, Golden Grass, Porta Natura). Lately, the artist is working on an enhanced cycle of modified photography titled Structures, together with other series of deep-etched glass objects inspired by the natural wonders of the Aegean Sea (Surge, Golden Age, Breath). These "landscapes of the mind" represent a fragmentary totality of the world, of man and his understanding of himself.
In addition to art creation, Doležal has been an advertising graphic designer since his studies. He has designed corporate and advertising logos and slogans, decorative paintings, interior design and realization of exteriors. Worth mentioning are the interior designs of the Eben Tea Room, Barcafé Hrušovany, the Fantasia disco in Pohořelice and the Fly Club in Kyjov. In Slovakia, a complex solution was created for the interior and advertising presentation of the company Metrodat in Dubnice nad Váhom. He has also consistently devoted himself to the restoration of statues and works of art. After repairs of the Calvary sculpture in Poštorná, in 2017 and the statue of St. Florian in Poštorná, the year 2018 will be dedicated to the restoration of the statue of St. John of Nepomuk there.
Fine art is synonymous with other Doležal's creative activities - theater and music. Doležal acts in the Theatre Ensemble Břetislav, plays music with his band Jenprotendnešnídenband where he composed the bulk of the tracks. Since the 90s, he has been the tireless "spiritus agent" of countless concerts, exhibitions, happenings and avant-garde projects (eg. Shell of Přibice, Art Salon of Breclav, Sugar Factory Lives with Art, Sheep barn). Whether these different ways of Doležal's action unfold in parallel, intersect or intertwine, his whole expression shows a significantly synergistic effect – fully in the meaning of Aristotle's Metaphysics, is his work "a whole more than the sum of its parts".
In Doležal's work, reality has been gradually transformed into a mysterious realm. A closer examination of his work reveals spaces between this earthly space and another world – as a never ending canvass of the being and dreaming. His work seems to demonstrate the psychological thesis that "we do not see what exits but what we are..." And so there is a dream, symbols and allegories that stand out from Doležal´s realism to question the disintegration of values of the existing world and to strain to balance and harmony.
Pavel Doležal (nar. 23. srpna 1961) je český malíř, tvůrce prostorových objektů, restaurátor, reklamní grafik, designér interiérů, fotograf, divadelník a hudebník, jehož dílo je příkladem rozvinutí kvalitního rodinného vkladu v prostoru a čase. Vyrůstal v Mikulově jako vnuk vzácné regionální osobnosti, akademického malíře Rudolfa Gajdoše. Malebnost prastarého moravského městečka na úbočí Pálavských vrchů a tvůrčí, vřelá atmosféra dědova ateliéru pod Svatým Kopečkem rozněcovaly od nejútlejšího věku malířovu zvýšenou citlivost a touhu po objevování toho, co je skryté a lidským očím neviditelné. Od dětství Doležala také silně utvářel jeho strýc, akademický malíř Jan Gajdoš, a to jak mistrnými a svou výpovědí silně zneklidňujícími grafikami, tak neúnavnou prací na rozsáhlých objektech z leptaného skla.

Doležal studoval Střední umělecko-průmyslovou školu v Uherském Hradišti a posléze v Brně a záhy začal pracovat jako reklamní grafik. Stal se zakládajícím členem výtvarné skupiny A6 a kapely Jenprotendnešnídenband, která byla nedílnou součástí moravské hudební scény. Hudebnost se pozitivně odráží i v jeho malířské tvorbě, kterou prezentoval na téměř 40 autorských i kolektivních výstavách doma i v zahraničí (Slovensko, Rakousko, Švédsko a Irán). V současnosti je členem Sdružení břeclavských výtvarníků (SBV), Sdružení výtvarných umělců moravských (SVUM) a předsedou Okrašlovacího spolku Krasula. Jeho výrazný výtvarný styl a bohatý umělecký výraz nachází uplatnění v mnoha významných realizacích - pro ilustraci uveďme grafické ztvárnění kalendáře Břeclav 2013, interiérové vitráže a leptané sklo pro Cafe Bulldog / Břeclav, stěnu z leptaného skla pro Vinařství Beneš / Hrušky, obsáhlou výstavu rodu Gajdošů nazvanou Kontinuita v zámku Mikulov, restaurování rozsáhlého sgrafita Svatební veselí ve Vracově či originální ceny pro Síň slávy Ozvěn břeclavského rocku 2012-2014.

Doležalův výtvarný rukopis se zvolna vyvíjí. Zodpovědně buduje barevné plochy svých olejomaleb. Na reliéfně strukturovaný podklad plátna či sololitové desky citlivě nanáší jemné vrstvy olejových barev. Často ostrými nožíky proškrabává nanesené barevné vrstvy, někdy až k samotné podmalbě, jindy nanáší barvený písek. V podstatě tedy dochází k harmonickému spojení malířských a grafických postupů. Takto pojednanou kompozici ještě místy cifruje akcenty i zářivými plochami plátkového zlata (Zlatý věk I-III). Místy takřka abstraktně pojednané barevné plány vytváří prostory pro jeho malířské příběhy. Ve skladbě jeho námětů naleznete témata zjevně biblická, historická i pohádková (Masada, Na cestě, Klekánice). Reprezentativním dílem takové orientace je nejnovější volný triptych Padlý anděl I-III. Tělo anděla (Padlý anděl II) se nachází v neurčitém prostoru pod nebesy a je zde bez hlavy. Ta je svěšena dovnitř trupu, do míst, kde chybí srdce a vnitřní orgány. Jeho křídla hoří krásou a svátostí, ovšem tělo působí subtilně a vyprázdněně, přičemž hlava obtěžkaná podlostí zemdleně padá do hlubiny tělesnosti. Rozsáhlá zlatá plocha křídel nás vtahuje do tělesných požitků a chtivosti, andělská přirozenost se proměňuje v žádostivost a touhu po slávě. Tlumená kolorace obrazu je v příkrém protikladu k masivnímu zlacení křídel a podtrhuje andělovu nešťastnou proměnu. Není pochyb, že toto dílo odkazuje jak k padlým andělům z Písma svatého, tak k pozemskému člověku se vším jeho zlem a protikladností.

Malířova tvorba často vychází z reality a zkušenosti (Na sumcích, Gotika, Modrý les, Hudba), zachycuje ovšem její vnitřní vnímání nebo momentální vjem v lyrickém tvaru, který se postupně proměňuje v mysteriózní krajiny (Mizející krajina I-II, Červánci, Snění). Autorovy figurální kompozice někdy zachycují autora samotného, jindy jeho nejbližší (Maťka a démoni, Bestgarden, Prastrýc Rudolf, Adamova cesta). Nepopírá okouzlení průniky architekturou ani výsekem krajiny (Münster Freiburg, Babylonská věž, Na Bělehrad!, Stratoni). Na druhé straně je zřejmé, že je to právě malba a trvalé okouzlení barevnou skladbou plochy obrazu, co určuje Doležalovu plodnou výtvarnou cestu. To je zřejmé zejména u expresivněji pojednaných prací, jež obývají bytosti Doležalova vnitřního světa, vzniklé imaginativností jeho osobnosti, kterou malíř pociťuje od dětských let (Drobný chovatel, Velký učitel, Modrý kocour, Nově příchozí II.). Nejen v jeho malbě, ale i v objektech ze dřeva a kamene se také projevuje jeho permanentní a hravá tvořivost (Souvlaki, Živly, Pyramida). Prostřednictvím třetího rozměru pak autor navazuje dialog mezi různými hmotami a formami.

Imaginace je dnes stejně jako dříve základním zdrojem Doležalovy tvorby, která se v současnosti se odvíjí v rovině experimentu s materiály a výtvarnými postupy. Již dříve dosažená - nepochybně vysoká - "technická" hodnota umělecké tvorby se však dostává do pozadí, přičemž autor se obrací k hlubším, závažnějším formálním a obsahovým rovinám. V hledáčku současné tvorby se ocitá zejména ručně leptané sklo a mnohovrstevné objekty, ve kterých je použito. Tato materiálově a technicky obsažná, časově náročná technika je unikátní na evropské úrovni. Autor se jí naučil od svého strýce, akademického malíře Jana Gajdoše, který ji vyvinul a věnoval jí přes 30 let své profesní kariéry. Za tu dobu realizoval na 70 děl, což pro pro ilustraci představuje ca. 725 metrů čtverečních vyleptaného skla.
U Doležala se spájí zdánlivé protiklady – neprostupný a solidní kámen (povětšinou mramor) vs. průzračné a křehké sklo. Umělecké leptané sklo zhotovuje pomocí hlubokého leptu, který pracuje se světlem a díky jeho difusi opouští danou trojrozměrnost. Únik z třetí dimenze vytváří napětí a dodává statickému objektu pohyb a s tím i čtvrtý rozměr – čas. Takto utvářené objekty nesou motivy mnohovrstevnatého lesa, měsíce probleskujícího mezi stromy či jiných fantaskních krajin. Svéráznou krajinomalbu lze plně v souladu s tradicí moderního evropského umění chápat jako jistou analogii a metaforu lidského nitra(Krajina mysli, Jádro věci, Zrno od plev, Porta Natura). Jeho skleněné skuptury se také dodatečně stávají uměleckých osvětlení různých interiérů.
Autor rozšiřuje svůj zájem o počítačově modifikovanou fotografii (Čekání na mši, Doteky, Cesta) a účastní se fotografických výstav. V poslední letech pracuje na dlouhodobém volném cyklu Struktury, který je stejně jako mnohé objekty z leptaného skla inspirován přírodními krásami Egejského moře (Iluze I-III, Tři prsty Chalkidiki, Souboj Titánů, ve skle potom Příliv, Zlatý věk, Výdech). Tyto "obrazy mysli" se tak stávají vícevrstvým obrazem člověka a jeho chápání sebe samého
Vedle volné tvorby působí Doležal již od svých studií jako reklamní grafik a designér. Zabývá se návrhem firemních a reklamních log a sloganů, dekorační malbou, interiérovým designem až po kompozici a realizaci exteriérů. Zmiňme zde namátkou design a interiér čajovny Eben, Barcafé Hrušovany, diskotéky Fantasia v Pohořelicích nebo Fly club v Kyjově. Na Slovensku to pak bylo komplexní řešení interiéru a reklamní prezentace firmy Metrodat Dubnice nad Váhom. Doležal se také trvale věnuje restaurování soch a uměleckých děl. Po opravě sousoší Kalvárie v Poštorné se v roce 2017 podařilo zrestaurovat sochu Sv. Floriána v Poštorné, rok 2018 je zasvěcen restaurování sochy Sv. Jana Nepomuckého tamtéž.

Výtvarná tvorba je neodmyslitelně spjata také s jinými tvůrčími počiny – divadlem a hudbou. Doležal působí jako herec Divadelního souboru Břetislav z Břeclavi, který se vypracoval mezi nejlepší amatérské uskupení Česka; založil hudební formaci Jenprotendnešnídenband, pro kterou složil a otextoval převážnou část skladeb. Od 90. let je neúnavný "spiritus agens" nesčetných koncertů, výstav, happeningů a avantgardních projektů (např. Přibická ulita, Břeclavský umělecký salon, Cukrovar žije uměním). Ať už se tyto jednotlivé cesty Doležalova působení odvíjejí paralelně, protínají či splétají, aby se vzápětí rozešly, vykazuje celý jeho projev značně synergický efekt – zcela v duchu Aristotelovy Metafyziky je jeho dílo jako "celek víc než souhrn jeho částí".

V Doležalově tvorbě se realita postupně transformuje v tajemství. Při podrobnějším ohledání díla se nám zjevují prostory mezi světem pozemským a zásvětím – jako nikdy neuzavřené plátno absurdního bytí a neklidného snění. Jeho tvorba jako by dokládala psychologickou tezi, že "nevidíme to, co je, ale to, co jsme…" A tak jsou to sen, symbol a alegorie, které vystupují z umělcova realismu, aby zpytovaly rozklad hodnot stávajícího světa a současně se vzpínaly k vyváženosti a harmonii.